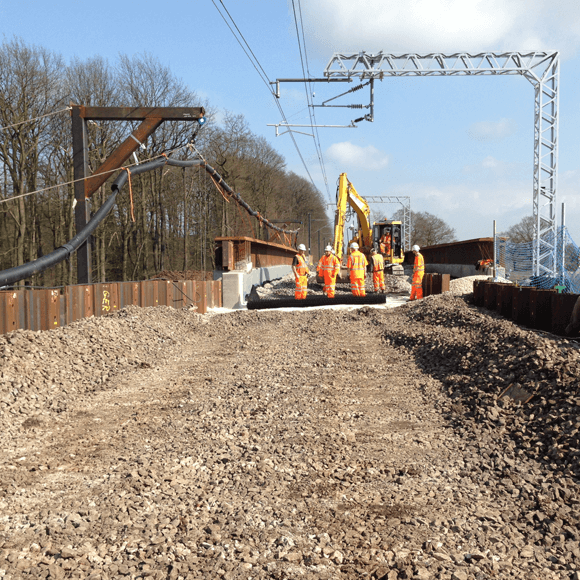 Crewe Green Link Road
Track ballast mechanically-stabilised with Tensar TriAx geogrid mitigated the risk of differential settlement within the track in the transition between a new railway bridge and an embankment, enabling construction to be completed over an Easter weekend.
Benefits
Mitigating differential settlement in the transition zone between a bridge deck and embankment
Maintaining track geometry for longer, maintaining operating speeds and reducing maintenance
Fast installation helping construction to be completed within a 54-hour possession
Client's Challenge
Construction of a bridge in an existing railway embankment, to enable trains to pass over the new Crewe Green Road Link, created the potential for longitudinal differential settlement of the track where it passed between the relatively softer embankment soils and harder bridge deck.
Tensar Solution
Tensar TriAx geogrids were used to mechanically-stabilise the track ballast at either end of the bridge. This gave additional foundation stiffness in these areas, smoothing the transition between deck and the embankment and mitigating differential settlement. Maintenance requirements were also reduced, as track geometry was maintained for longer.